Thanks for stopping by.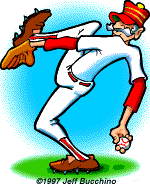 Please add your comments, then press "Submit Comments." It may be necessary to reload this page using your browser, to view your addition.
---
Date:

20 Jan 1999
Comments
Hi Ryan,
I love you!
Memere
---
Date:

19 Feb 1999
Comments
Hi Fred!
Didn't Memere do a great job on your web page? It matches your room! When I get lonely at work I just visit here, so I can see your picture. It is great to read about all the things you like - and don't like. I can't wait to get home and see you.
Love, Mom
---
Date:

22 Feb 1999
Comments
Hi Rye Rye, Just read your page. Its just like you. Have you played the other games on frogger like I showed you? I told you, you could get them. Dont you think they are fun? Well gotta go. Love you. Auntie Di
---
Date:

04 Apr 1999
Comments
HI RYAN,
Happy Easter! I hope the Easter bunny was good to you. I love you!
Memere
---
Date:

21 Apr 1999
Comments
hi ryan, i hope you had a good time on vacation.i miss you.macy
---
Date:

23 May 1999
Comments
hello ryan i am syrena i think i am a cousin, i thought your page was real cool my brother likes sports too, i hope to see you soon i have'nt seen you in a long time i will be seeing you soon. love, syrena
---
Date:

20 Oct 1999
Comments
Hi Ry,
Mom told me that you were going to share this page with your school friends this week. I hope that they all like it. Maybe a few of them will sign this book to see how it works. I hope you have a good day.
I love you,
Memere
---
Date:

06 Feb 2000
Comments
Hey what's happening. I like your page it's cool. I'll see you soon. From Zachary
---

Copyright © 1998 by [Mémère Doodling]. All rights reserved.
Revised: 16 Dec 2001 11:16:11 -0500.