Hi,
Welcome to my website. I'm glad that you dropped by to find out a little about me. Well, here goes. I am eight years old and in the third grade. In school, I am learning to multiply and divide, and to write in cursive. I have a hard time with division. I try very hard, because when I grow up, I would like to be a Vet. I almost always get A's and was even "Student of the Month". My parents were real proud.
There are lots of special people in my life, starting with Mom, Dad and my sister, Brittney. Some others are Chérie, JoJo, and all my cousins, but most especially TaTa and Nicki (my aunt and my best friend). I'm a little shy, but would still like to be your friend. I don't like to see anyone's feelings get hurt and I try really hard to get along with everyone. There are two things that I really, really like. They are the Backstreet Boys and ...

Some other things I really like are...
| | |
| --- | --- |
| Playing with the computer | Kisses & hugs |
| Singing with the radio | Cuddling |
| Swimming the crocodile | March 27th |
| Visiting friends & family | Sleepovers |
| Playing with babies | |
Now, these are some of the things I don't like...
Making decisions
Vegetables
Being the new kid in school
Homework
Arguing with my friends
Trying new things
When grownups get upset with me
Like I said before, I really like Pokemon and the Backstreet Boys. They are my favorites. My favorite color is red, and my favorite foods are pizza, spaghetti, Chérie's strawberry cake and octopus. Lots of people say "Yuck" to that one. Auntie Robin says that even most of my favorite foods are red.
Would you like to see what I look like?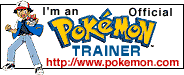 Would you like to sign my guestbook, or maybe send me an E-Mail message. If you do, I promise to answer you back.
If you would like to see some other fun sites that belong to my cousins and Chérie, just click on them. If you go to Chérie's page, be sure to click on how Chuckles likes to fool around with her. It's real funny, but she doesn't think so.