Welcome to my little corner of the web and my online abode. Make yourself at home and take a look around. Here you will discover some heartwarming stories, poems, and music. I hope you enjoy meeting my family and learning a little about all of us.
My name is Arline, and I am the single mother of four beautiful daughters: Robin, Clarice, Dianna and Cherie. I am also the grandmother of eight wonderful grandchildren and best known to them as Mémère. They are the apples of my eye and the joys of my life.
I am self-employed, running both a day care home and a vacation rental program for condos in New Hampshire's White Mountains. When I am not at home, you can usually find me at the Nordic Inn.
As far as my age -- we're not going there. Suffice it to say that I am an "almost senior," but VERY young at heart. 'Nuff said.
This site started out as a Christmas present for my grandchildren. I thought that it would be neat to give each of them their own page that they could edit themselves. As they grow, so will their likes and dislikes. These pages will be forever growing and changing -- just as they do. Little did I know just how much work this project would entail. I am new at making web pages and have a lot to learn.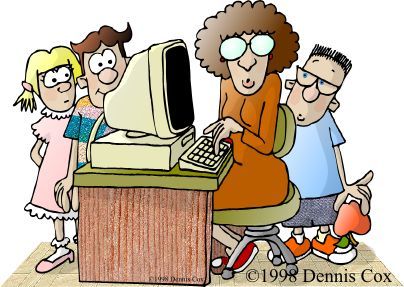 While building this site, I changed the game plan and decided to add two additional pages, one for my mom and another for my daughter, Chérie. I suspect that as time goes on, I will be adding more pages still.

Please join me and pull up a chair. Would you like a cup of

Java or tea while I tell you about my kids?
Robin
D.O.B. 10/13/65
Married Donald Cote 2/29/92
Children
Ryan 4/1/93
Jacqui 2/2/95
Kerry 10/13/96
Clarice
D.O.B. 9/1/68
Married Michael Callahan 5/28/95
Children
Michael 12/31/94
Kyle 6/9/97
Dianna
D.O.B. 9/3/68
Married William Harper 6/2/90
Children
Mackenzie 4/28/93
Kennedy 9/2/95
Chancellor 9/8/98
Chérie
D.O.B. 7/23/74

I would like to share this poem with you. It was a poem that I and my siblings loved as children. It has served its purpose, and I now gift it to my own children so that they may share it with theirs. May you and your children enjoy it as much as I did.
Me Mudder
When me prayers are early said
Who tucks me in me wittle bed?
Who spanks me wittle ass, 'til it is red?
Me Mudder
Who lifts me from my cozy cot,
and sets me on the ice cold pot?
Who makes me pee when I cannot?
Me Mudder
And when the morning light had come,
And in my bed I'd dwibbled some,
Who wipes me tiny wittle bum?
Me Mudder
And did me hair so neatly part,
And gently pressed me to her heart,
And sometimes squeezed me 'til I'd fart?
Me Mudder


Everything on the following pages is very special to me, from the things I enjoy most to the people I love. Here, I have attempted to share with you a small part of myself. I hope you will get a glimpse of the joy and happiness that colors my world, and I hope these pages will bring you happy thoughts, a few smiles and possibly, even a little bit of laughter. Please join me in "Mémère's Doodlings" on this sentimental journey.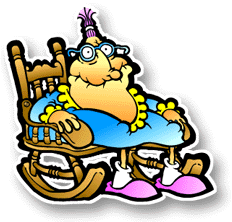 Rockin' Mémère


Lest we forget..
and our women, also!

With love,
Arline
Do you have a timeshare or vacation home you would like to swap for a week in New Hampshire's White Mountains? E-Mail me and let's discuss it.