This page is where I pay tribute to the people who have truly helped me through the years -- by always being there with their encouragement, their support their acceptance, and mostly, their love. Without them, some difficult times would have become unbearable. I thank them from the bottom of my heart. They are God's gifts to me.
Over the years, I have read and collected poems and stories of all kinds -- funny, sad, and inspirational. Below you will find a few that I especially like for one reason or another. I would like to share them with you...and dedicate them to My Friends. Enjoy!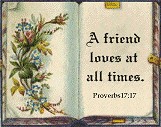 A FOREVER FRIEND

Sometimes in life,
you find a special friend;
Someone who changes your life
just by being part of it.

Someone who makes you laugh
until you can't stop;
Someone who makes you believe
that there really is good in the world.
Someone who convinces you
that there really is an unlocked door
This is Forever Friendship.

When you're down,
and the world seems dark and empty,
Your forever friend lifts you up in spirit
and makes that dark and empty world
suddenly seem bright and full.

Your forever friend gets you through
the hard times, the sad times,
and the confused times.
If you turn and walk away,
your forever friend follows.
If you lose your way,
your forever friend guides you
and cheers you on.

Your forever friend holds your hand
and tells you that
everything is going to be okay.
And if you find such a friend,
you feel happy and complete,
because you need not worry.
You have a forever friend for life,
and forever has no end.
The above poem is dedicated to my very own "Forever Friend". She needs no introduction -- she knows who she is.

Friendship is a strange thing. We find ourselves telling each other the
deepest details of our lives ... things we don't even share with the
families who raised us.
But what is a friend? A confidant? A shoulder to cry on? An ear to
listen? A heart to feel? A friend is all these ... and more. No matter
where we met, no matter how long we've been together ... I call you
friend. A word so small, yet so large in feeling, a word filled with
emotion, a word overflowing with love. Truly great things come in small
packages. Once the package of friendship has been opened, it can never be closed.
It is a constant book always waiting ... waiting to be read ... and
enjoyed. We may have our disagreements ... we may have our
disappointments ... we may argue ... we may concern one another ...
friendship is a unique bond that lasts through all tribulations. A part
of each of us goes into our friendships ... our humor ... our
experiences ... our tears. Friendships are foundations ... necessary for
life ... and love.
Friends ... you and me ... you brought another friend and then
we were three ... we started our group ... our circle of friends
... there is no beginning ... there is no end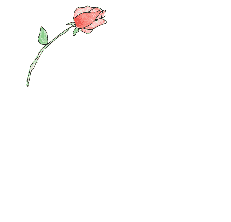 "Don't walk in front of me, I may not follow.
Don't walk behind me, I may not lead.
Walk beside me and be my friend."
Albert Camus

A LETTER TO A FRIEND
My heart speaks to you every day, my dear friend.
Each morning I rise to the faces of five children
making themselves ready for school, I smile.
~This smile I send to you by way of my heart.

I kiss them, never let them leave without an "I love you",
and wave as they disappear.
I smile......knowing how lucky I am.
~This smile of love I send to you by way of my heart.

I heat water to brew my herbs, and sit outside to hear the
morning birds sing. Sipping my tea, looking out over this
wondrous valley, I feel blessed for the beauty I see.
~This blessing I send to you by way of my heart.

When the sun is warm I begin watering the grass my son planted,
and tend the flowers my children helped me create.
I close my eyes, breathing in their scent,
a more powerful healer has yet to be made.
~This fragrance I send to you by way of my heart.

And throughout the day, and hundreds of small tasks and
little projects, I think of you and yours.
I wonder if your day is like mine and how you are handling things.
I am almost sure you look at things as I do,
and even relish the tasks we have at hand.
~These thoughts I send to you by way of my heart.

At days end, when I return to my porch, my tea in hand,
I watch in wonder as the sun sets.
I'm stunned and grateful for the colors I find, for the peace it brings me.
Knowing that if the next day failed to come, that I did well today,
that I took the time to see things around me, knowing that I am loved,
and that my dear ones know that I love them.
~This peace I feel, I send to you.......my friend,
......by way of my heart.
© ~Yashti~ (a letter to a friend)
Thank you Yashti, for sharing this very personal letter with me.

BEAUTY OF OUR FRIENDSHIP

Friendship is a Priceless Gift that cannot be bought or sold,
But its value is far greater than a mountain made of Gold.
For gold is cold and lifeless, it can neither see nor hear
And in the time of trouble it is powerless to cheer--
It has no ears to listen nor heart to understand,
It cannot bring you comfort or reach out a helping hand
So when you ask God for a gift
Be thankful if HE sends not diamonds, pearls or riches
But The Love of Real True Friends.
Helen Steiner Rice

THE FRIEND WHO JUST STANDS BY

When trouble come your soul to try,
You love the friend who just "stands by."
Perhaps there's nothing he can do--
The thing is strictly up to you;
For there are troubles all your own,
And paths the soul must tread alone;
Times when love cannot smooth the road
Nor friendship lift the heavy load,
But just to know you have a friend
Who will "stand by" until the end,
Whose sympathy through all endures,
Whose warm handclasp is always yours--
It helps, some ways, to pull you through,
Although there's nothing he can do.
And so with fervent heart you cry,
"God bless the friend who just 'stands by.'"
B. Y. Williams

JUST BEING FRIENDS
"Friendship happens in that special moment
when someone reaches out to another,
trusts, comforts, believes in another,
and makes a special difference
that no one else can make".

WHY GOD GAVE US FRIENDS


God knew that everyone needs
Companionship and cheer...
He knew that people need someone
Whose thoughts are always near.
He knew they needed someone kind
to lend a helping hand...
Someone to gladly take the time
To care and understand...
That's why God gave us friends

God knew that we all need someone
To share each happy day...
To be a source of courage
When troubles come our way...
Someone to be true to us
Whether near or far apart...
Someone whose love we'll always hold
And treasure in our hearts...
That's why God gave us friends.
Author unknown

A SPECIAL KIND OF FRIEND

If there's someone you can talk to
Someone no one can replace...
If there's someone you can laugh with
Till the tears run down your face...
If there's someone you can turn to
When you need a helping hand...
If there's someone you can count on
To advise and understand...
If there's someone you can sit with
And not need say a word...
If there's someone you can trust
To keep each confidence she's heard...
If there's someone you think more of
As each year comes to an end --
You're a person who is blessed,
For you've found a Special Friend.
Doris Faulhaber

~ A F R I E N D ~

A friend, is all of many things.
Most of which are smiles, laughter and tears.
Shared with you for many years..
Always there when needed, never offending.
Doing what's in need of being done.
Not overlooking, when you're hurting.
Nor criticizing, what you have done when you're down.
Reading what is in your heart, not the words you say.
A friend is all of these things and many more.

A friend in times of need, is difficult to find.
A pleasant way to ease your mind.
To know for sure you have one,
a milestone on the road of life.
Friends need not have riches nor material things.
Only A heart to share.
Smiles on their faces; when you meet.
The songs in your hearts play the same tunes.
Their smiles are your smiles.
Their laughter, your's.

Friends are able to empathize feelings of others.
For under the skin deep within,
We are all sisters and brothers.
© George Bryant, May 1998

FRIENDSHIP

"Once in a while you meet someone,
and soon you both discover the two of you are truly something special to each other
You share your thoughts and feelings so relaxed, so openly,
and right away you know your friendship's truly meant to be."

Life isn't about keeping score.
It's not about how many friends you have
Or how accepted you are.
Not about if you have plans this weekend or if you're alone.
It isn't about who you're dating,
who you used to date,
how many people you've dated,
or if you haven't been with anyone at all.
It isn't about who you have kissed,
It's not about sex.
It isn't about who your family is or how much money they have
Or what kind of car you drive.
Or where you are sent to school.
It's not about how beautiful or ugly you are.
Or what clothes you wear,
what shoes you have on,
or what kind of music you listen to.
It's not about if your hair is blonde, red, black, or brown
Or if your skin is too light or too dark.
Not about what grades you get,
how smart you are,
how smart everybody else thinks you are,
or how smart standardized tests say you are.
It's not about what clubs you're in or how good you are at "your" sport.
It's not about representing your whole being on a piece of paper and seeing who will "accept the written you."

LIFE JUST ISN'T.

But, life is about who you love and who you hurt.
It's about who you make happy or unhappy purposefully.
It's about keeping or betraying trust.
It's about friendship, used as a sanctity or a weapon.
It's about what you say and mean,
maybe hurtful, maybe heartening.
About starting rumors and contributing to petty gossip.
It's about what judgments you pass and why.
And who your judgments are spread to.
It's about who you've ignored with full control and intention.
It's about jealousy, fear, ignorance, and revenge.
It's about carrying inner hate and love,
letting it grow, and spreading it.
But most of all,
it's about using your life to touch or poison other people's hearts in such a way that could have never occurred
alone.
Only you choose the way those hearts are affected,
and those choices are what life's all about.

Piglet sidled up to Pooh from behind.
"Pooh!" he whispered.
"Yes, Piglet?"
"Nothing," said Piglet, taking Pooh's paw.
"I just wanted to be sure of you."
"I will not drag you along; I will not leave you alone; I will stand by you and have my hand there for you to hold when you need to."

TOUCHING SHOULDERS

There's a comforting thought at the close of the day
When I'm weary and lonely and sad;
That sort of grips hold of this poor old heart
And bids it be merry and glad.
It gets in my being, and drives out the blues

And finally thrills through and through,
It's just a sweet memory, that chants this refrain,
"I'm glad I touched shoulders with you."

Did you know you were brave?
Did you know you were strong?
Did you know there was one leaning hard?
Did you know that I waited, and listened and prayed?
And was cheered by your simplest word.
Did you know that I longed for the smile on your face?
For the sound of your voice ringing true,
Did you know I grew stronger and better because
"I had merely touched shoulders with you ".

I'm glad that I live, that I battle and strive,
For a place that I know I must fill;
I'm thankful for sorrows, I'll meet with a grin
What fortune may bring, good or ill;
I may not have wealth, I may not be great
But I know I will always be true,
For I have in my life, that courage you gave,
When once, "I touched shoulders with you!"
Lawrence Holtzberry

A BIRTHDAY LETTER
FROM MY FOREVER FRIEND
Arline,
Thirty years sounds like forever, but it seems like only yesterday I met a very shy girl with a funny accent!
Never anticipating how our lives would mesh, or how our families would blend, I found myself with a new best friend who quickly became the "sister" I never had. Though not a drop of blood do we share; a piece of each other's heart we do.
Because of you, I never have to think about where would I go, who would I ask? You have always been there for me, both to share my joys and ease my sorrows. I thank God for sending you to share our lives.
You called me your "Forever Friend" and I want you to know how much that touched my heart. Not too many people have "Forever Friends", so I consider myself to be special.
Sometimes late at night when I can't sleep, I think about my life and family and count my blessings, and when I do, you are always right up there.
My dear friend, for your 50th. birthday, I wish you health, happiness, and a prosperous fifty years! I want to be right there, by your side, laughing and smirking at each other as our beautiful grandchildren drive their parents just as crazy as our lovely children drove us.
Love ya!
Maryellen
The above letter is one of my most prized possessions! Thank you, Maize-e-doats.


to Mémère Doodling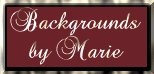 With love,
from Arline