There Is An Angel Among Us
...some people dream of angels
I remember when one held me in her arms.

This page is dedicated to our Mom..
Mom's name is Loretta Walker and she is 85 years young. The youngest of sixteen children, she was born on March 18, 1914. She is now the only surviving member of her family. She resides at the Oakland Grove Health Care Center in Woonsocket, RI and has been there for almost two years now.
Mom and Dad were married in 1939 and had four children. They named them Julie, Arline, Jeanne, and Henry. As of December 1998, Mom has 14 grandchildren and 23 great-grandchildren. She is known to all of them as Mémère and Grandmémère. Please do not refer to her as "Big-Mémère" as this does not make her very happy!!
Mom has suffered a few strokes that have not affected her physically. However, mentally she is very much impaired. Most times, she does not recognize us or remember much of the past. Mom, who once was a very proud, very conservative woman, has now regressed to yelling and singing at the top of her lungs. Most times, she is very happy, locked in this world that we are denied access to and that no one ever envisioned for her.
Mom blessed us with the greatest gift that four children could ever wish for --- her unconditional love. We may not always have been the children she expected, or behaved the way she would have liked --- but she was always there, to accept us just the way we were, to accept us "as is."
When we were children, Mom gave us a poem titled "Me Mudder," which you can find on my homepage. It was a poem we delighted in repeating over and over, mostly because we could repeat the "naughty" words without fear of consequences. A few years ago, I came across a poem by Ann Taylor called "My Mother." I believe that "Me Mudder" was a take-off of "My Mother." I mention this poem because its words are so apropos to the situation we all face with Mom. It is now time for all of us to show her, in whatever way we can, our unconditional love. This wonderful poem follows.
My Mother
Ann Taylor
Who fed me from her gentle breast,
and hush'd me in her arms to rest,
And on my cheeks sweet kisses prest?
My Mother.

When sleep forsook my open eye,
Who was it sang sweet hushaby,
And rocked me that I should not cry?
My Mother.

Who sat and watched my infant head,
When sleeping on my cradle bed,
And tears of sweet affection shed?
My Mother.

When pain and sickness made me cry,
Who gaz'd upon my heavy eye,
And wept, for fear that I should die?
My Mother.

Who drest my doll in clothes so gay,
And taught me pretty how to play,
And minded all I had to say?
My Mother.

Who ran to help me when I fell,
And would some pretty story tell,
Or kiss the place to make it well?
My Mother.

Who taught my infant lips to pray,
And love God's holy book and day,
And walk in wisdom's pleasant way?
My Mother.

And can I ever cease to be
Affectionate and kind to thee,
Who wast so very kind to me?
My Mother.

Ah! no, the thought I cannot bear,
And if God please my life to spare,
I hope I shall reward thy care,
My Mother.

When thou art feeble, old, and gray,
My healthy arm shall be thy stay,
And I will soothe thy pains away,
My Mother.

And when I see thee hang thy head,
'Twil be my turn to watch thy bed,
And tears of sweet affection shed.
My Mother.

For God who lives above the skies,
Would look with vengeance in His eyes
If I should ever dare despise
My Mother.
Mom, the time has come for you to lay back, relax, and let us take care of you. We do this willingly and gladly, and with all of the love we possess. Throughout our lives, you have taught us through your words and actions, the meaning of hard work and sacrifice. You have instilled in us, respect, independence, love, hope, stability, courage, and honesty. You have been an inspiration and an example for all of us. The values you taught us will stay with us always. We thank you from the bottom of our hearts for all that you have given to us.
Children think that parents do not age ... They think they will stay as they are ... Always there ... Forever there. We grow older, yet we don't expect them to.

As Mom is not capable of reading E-Mail or a Guestbook, we have set up a prayer book for you to leave a message, thought, or prayer for her. These in turn will be read to her. Please use the icon below to share your thoughts. Thank you.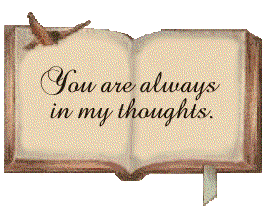 ...you are only a keystroke away

Mom's favorite color is blue, especially this shade, and one of her favorite songs is Ave Maria; hence, the choices for this page.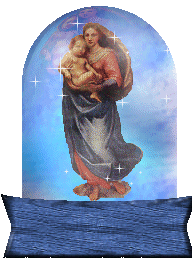 If you've a mother with silv'ry hair
Give her all pleasures and treat her with care.
And as you grow older the least you can do,
Is do unto mother as she did unto you.
-Verse from a nineteenth-century calling card

A YOUNG GIRL DWELLS
What do you see, nurse, what do you see?
Are you thinking when you look at me --
A crabbed old woman, not very wise,
Uncertain of habit with faraway eyes?
Who dribbles her food and makes no reply
When you say in a loud voice, "I do wish you'd try!"
Who seems not to notice the things that you do,
And forever is losing a stocking or shoe?
Who resisting or not, lets you do as you will
With bathing and feeding, the long day to fill?
Is that what you're thinking, is that what you see?
Then open your eyes, nurse, you're looking at me.
I'll tell you who I am as I sit here so still...
As I move at your bidding, eat at your will...
I'm a small child of ten with a father and mother,
Brothers and sisters who love one another;
A young girl of sixteen with wings on her feet,
Dreaming that soon a love she'll meet;
A bride at twenty my heart gives a leap,
Remembering the vows that I promised to keep;
At twenty-five now I have young of my own
Who need me to build a secure, happy home;
A woman of thirty, my young now grow fast,
Bound together with ties that should last;
At forty, my young sons have grown up and gone,
But my man's beside me to see I don't mourn;
At fifty, once more babies play around my knee,
Again we know children, my loved ones and me.
Dark days are upon me, my husband is dead.
I look at the future, I shudder with dread.
For my young are all rearing young of their own,
And I think of the years and the love that I've known.
I'm an old woman now and nature is cruel,
'Tis her jest to make old age look like a fool.
The body crumbles, grace and vigor depart;
There is a stone where I once had a heart.
But inside this old carcass a young girl still dwells,
And now again, my embittered heart swells
I remember the joys, I remember the pain,
And I'm loving and living life over again,
I think of the years, all too few, gone too fast,
And accept the stark fact that nothing can last.
So open your eyes, nurse, open and see
Not a crabbed old woman,
Look closer -- see me!
Author Unknown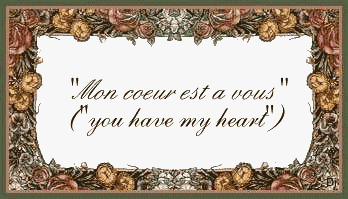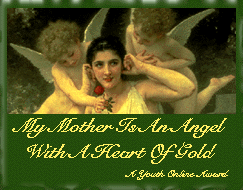 Grand Mémère's Page of Elderly Humor
"Beautiful young people are works of nature,
but beautiful old people are works of art."
Avec amour,
Vos petits choux
Sadly, Mom passed away peacefully on August 3rd. 1999. She will be sorely missed by all who knew and loved her. Please visit the Memorial Page that has been added in her honor.