Hi, I'm Jacqui. Would you like to play with my Barbies? I think they're special and I like to play with them. I have a lot of them and all kinds of clothes to dress them in. My favorite one is Christmas Barbie. Maybe Santa Claus will bring me more for Christmas.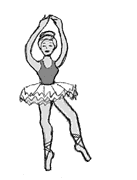 Would you like to know about me? Well, I am four years old and I go to dancing school. I can be very shy when something is new to me, and I always want to stay with my Mom or Dad. My Mémère takes care of me in her Day Care when Mom and Dad are working. Don't tell her, but I would rather stay home. I try real hard not to cry when I go there. On Wednesdays and Fridays, Christopher and Peter go there and they make me very nervous. I like their sister Katie, though.
I have a brother and a sister and a dog (Ribbons) and a cat (Little Foot) and a lot of fish. The fish keep dying, but we keep getting more. My brother's name is Ryan, and I think he's bossy. My sister is Kerry, and we play together a lot.
Something else you should know about me - I cry a lot. I can be very happy and then just start crying. I don't know why I do this. This is what I look like, but my hair is longer.


This is all you need to know about my family. My Mom is stupendous, "Ry-Ry" is handsome, Kerry is sexy, I am gorgeous good girl, and my Daddy is UGY, UGY, UGY!

I like to sing songs. These are my favorites:
Rudolph the Nose

Eenie Meanie Weenie WOO

Ring around a rosie, pocket took a toesies.

Clean Up! Clean Up! Everybody take your share.
People like to hear me sing. They always laugh when I sing these songs. I must make them happy.

These are some of my favorite things:
| | |
| --- | --- |
| | Barbies, |
| | Sleeping on a mat, |
| | Beads in my hair, |
| | Joking about "The Old Coot," |
| | Weekends and no Day Care, |
| | Pink and Purple, |
| | "Talkie Walkies," |
| | Pasta, and |
| | Going to the condo. |

Some of the things I don't like are:
| | |
| --- | --- |
| | EGGS! (Ugh!); |
| | Monday, Tuesday, Wednesday, Thursday, and Friday; |
| | Peter and Christopher; |
| | Ken, because he's for boys; |
| | Mémère putting coal in Daddy's stocking; |
| | Going to bed early; and |
| | Strange or new people. |

This is what I look like:

A message from Mémère:
Oh, You Beautiful Doll,
What a special girl you are! I love having you come to my house and taking care of you. You are getting so grown-up.
Remember when I first started watching you? You didn't want to come and play with the other children. Now they are all your friends. We have a good time, don't we?
Of all my grandchildren, you are the most sensitive. You remind me so much of your Auntie Di. You feel everyone's pain and place it upon your tiny shoulders, but your shoulders are not strong enough for that, yet. I would like you to try real hard not to worry so much. That's what Mommies and Daddies and Mémères are here for.
Jacqui, you will always be my very special doll. You are unique and there is not another one like you. You are truly a limited edition. My wish for you is that you smile more and worry less, your life is always rosy, and you always be happy. May the wings of love enfold you always.
Love and kisses,
Mémère
12/24/98


These are all of the pages you can visit to learn about the rest of my family.
[Ryan's Page] [Kerry's Page] [Mikey's Page] [Kyle's Page] [Macy's Page] [Kay's Page] [Chance's Page] [Auntie Chérie's Page] [Mémère Doodling]
Another great site to visit is Barbie's website. You can have a lot of fun there.

Can you PLEASE send me sign my book. Mommy said she would help me with it.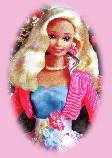 With love,
from Mémère